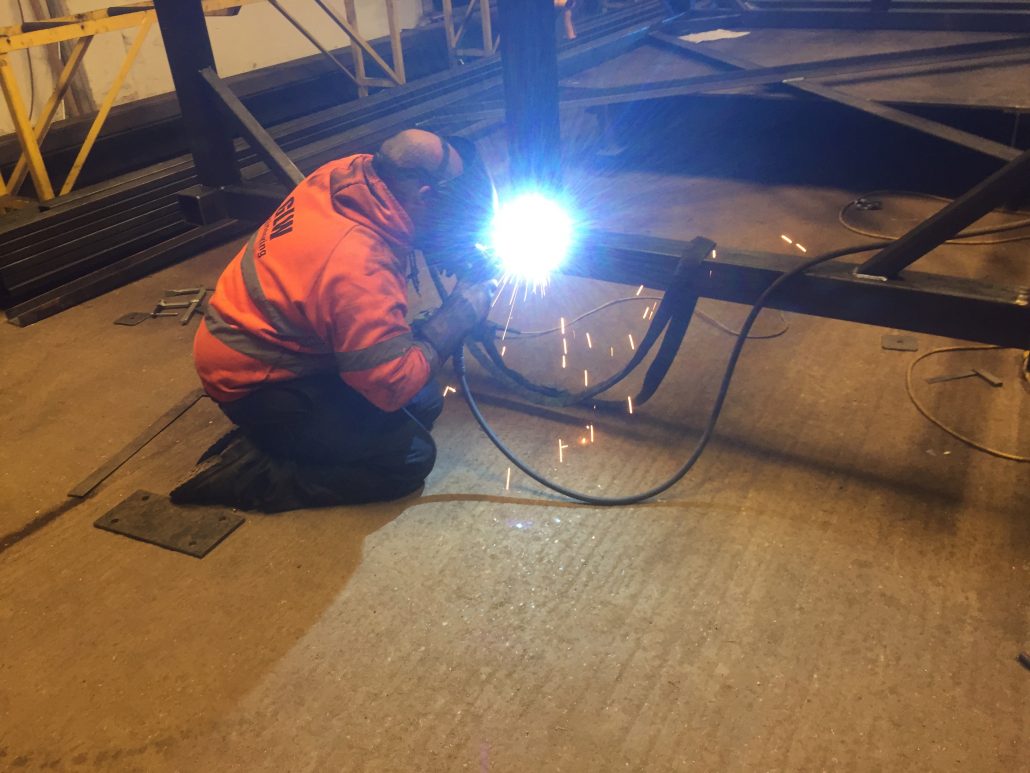 Grit blasting is a surface preparation method that involves spraying a surface with abrasive grits under high pressure. This blasts away surface contaminants and old paint and prepares a surface for finishing, coating or repainting. Depending on the surface on which the work is being performed, the abrasive media can consist of metallic shards, grit particles, ceramic beads, baking soda or crushed walnut shells.

Paint Adhesion & Preventing Corrosion
Grit blasting benefits any metal surface which is being prepared for a paint job or coating. By creating a smooth surface, grit blasting removes the pits and cracks that frequently harbour moisture and contaminants – and which can cause problems with paint adhesion down the line. It also removes the mill scale and soluble salts that can lead to rust build-up under the paint, which can ruin the metal surface itself as well as the coating.
Grit blasting is used extensively in industry:
Architectural steel fabrications, including balustrades, cycle shelters and benches, all benefit from grit blasting prior to treatment with hot zinc spray or another protective coating.
Handrails require an especially clean and smooth surface to prevent contaminants building up under the surface that could lead to paint defects and rusting. Grit blasting prepares new handrails for a long lasting paint coat, and can also restore old handrails for re-treatment.
Vehicle restorations – car surfaces and wheels are cleaning of oil residues, rust and old paint before being given a new coat. Abrasive cleaning can also strengthen old metal by compacting the surface, providing extra durability to restored classic cars.
New vehicles, plant and machinery – grit blasting is used to remove metal residues and left over contaminants from the manufacturing process.
Metal finishing - Grit blasting can also aid in the removing of unwanted metal shards from a newly-manufactured product, a process called fettling.

Find Out More
At GLW Engineering we offer a cost-effective grit blasting service for a wide range of applications, from new fabrications to vehicle refurbishments. Our facility near March, Cambridgeshire has all the equipment needed to carry out grit blasting safely and effectively in-house, and we also have a mobile team who can perform surface preparation on site. Get in touch today by phone or email to discuss your requirements.