Introduction
Staircases are probably the main architectural steel fabrication artefact that demands attention to aesthetics as much as to function and safety. A staircase may be intended to stand out – to act as a creative, eye-catching feature of a particular space, especially indoor spaces. Attractive designs, often in steel and glass, are intended to be pleasing as well as functional.
This is where the talented design skills of GLW Engineering can transform your thoughts and ideas into a striking piece of architecture.
We also specialise in designing functional staircases, such as fire escapes and staircases in factories and warehouses. No matter what the application, we take pride in our design and craftsmanship to ensure that your staircase delivers safety, functionality and aesthetic appeal.

External & Interior Steel Staircases
Staircases can be categorised in several ways but probably the simplest and most obvious are:
Architectural Staircases
External Staircases and Fire Escapes
Commercial Staircases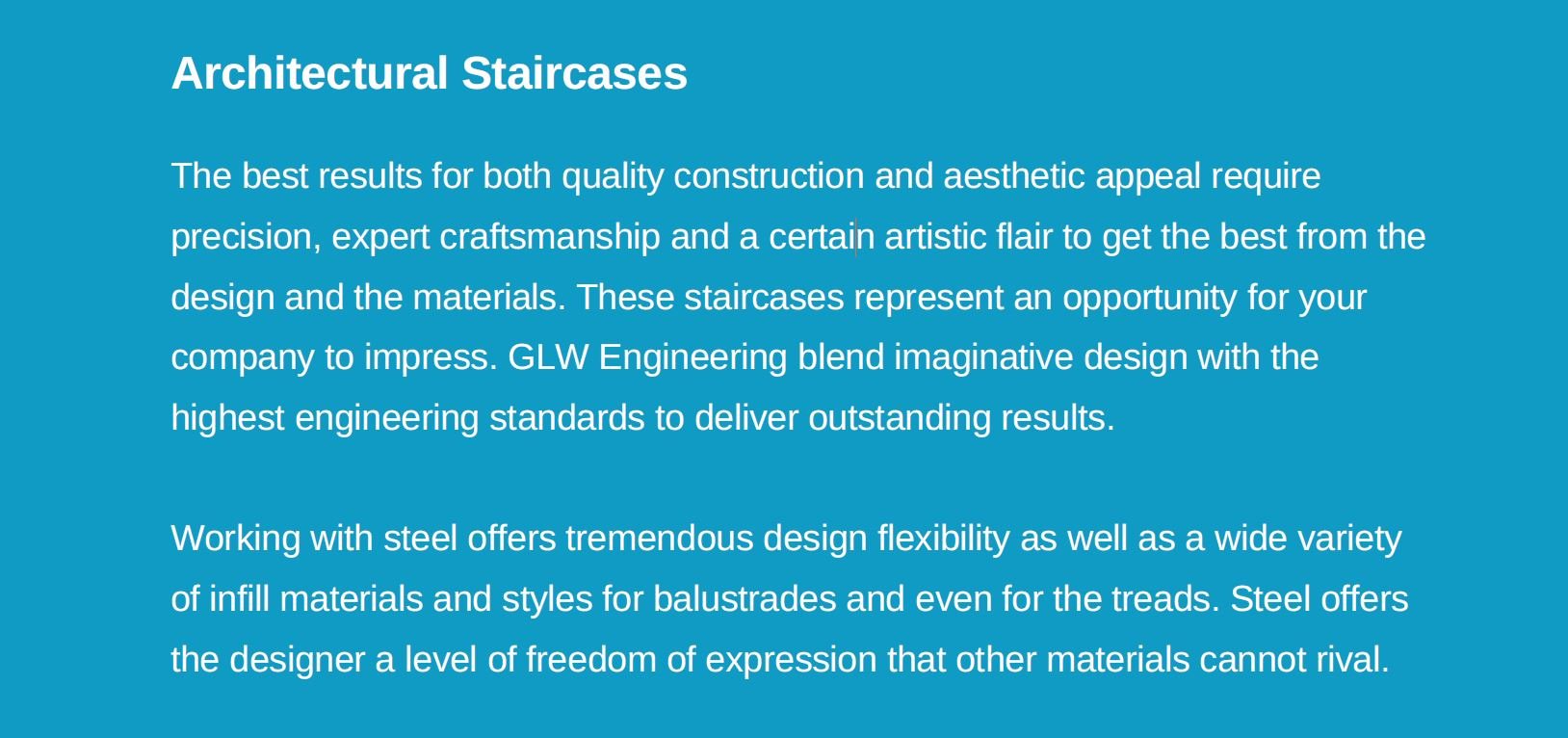 External Staircases, Fire Escapes & Hoop Ladders
Usually fabricated from mild steel, we can apply a range of corrosion-resistant finishes such as galvanised zinc, powder coatings or protective paints. We can also suggest what features might be required for handrails and treads depending on local factors or risks such as leaves or other considerations.

Fabrication, Aesthetic Factors &

Installation Guidelines
We can design and fabricate any of these styles of steel staircases:

Straight staircases, with or without landings and turns

Floating staircases
Staircases can be relatively complex to fabricate due to the number of components that need to fit together during final assembly, including banisters and handrails, balustrades, newel posts, steps (treads and risers) and maybe a bullnose. Then there are the stringers, winders, and trim. Everything must be engineered with a high degree of precision to both sustain the load bearing requirements and to fit perfectly into place when installed.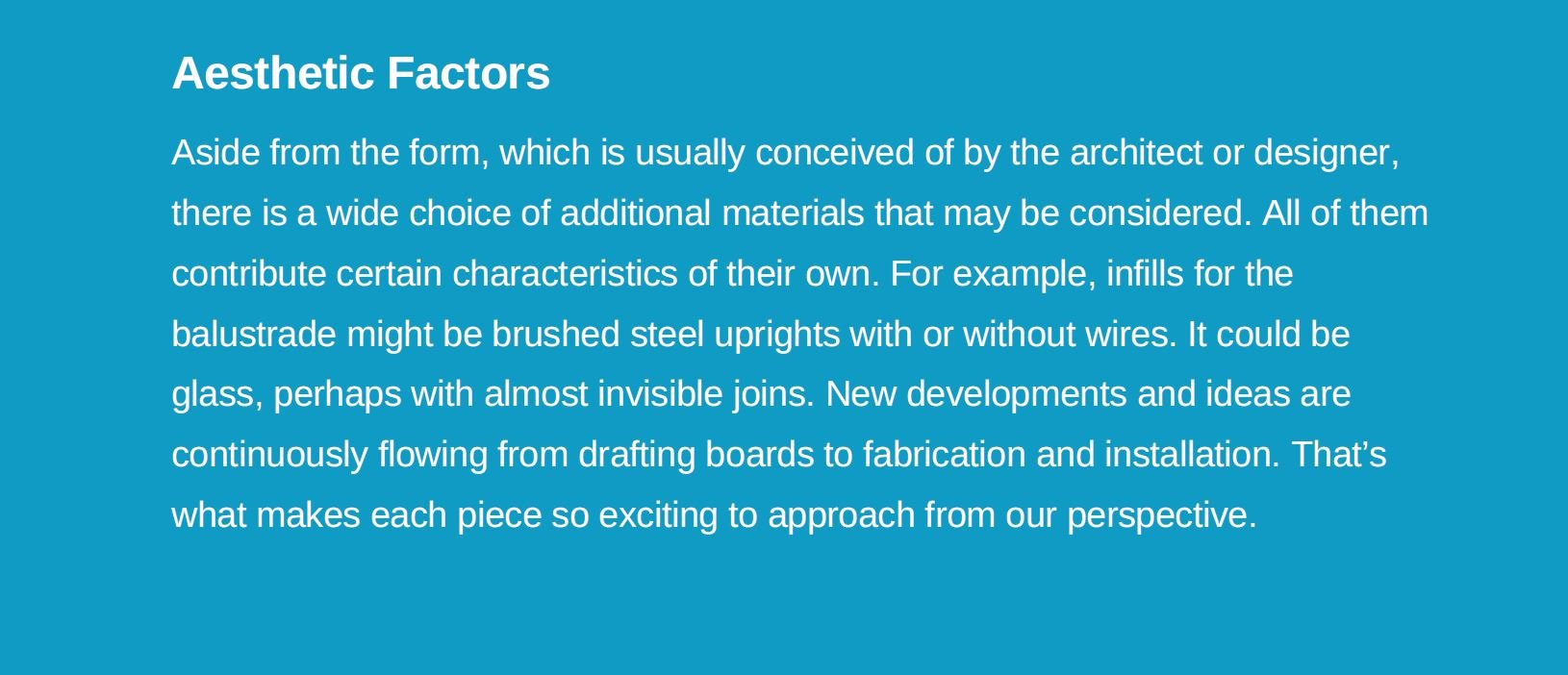 Finish
According to the design specification and the material used, the finish can be:
Galvanised or hot zinc spray coated
Powder coated
Stainless steel (if that is the material of choice) or brushed stainless steel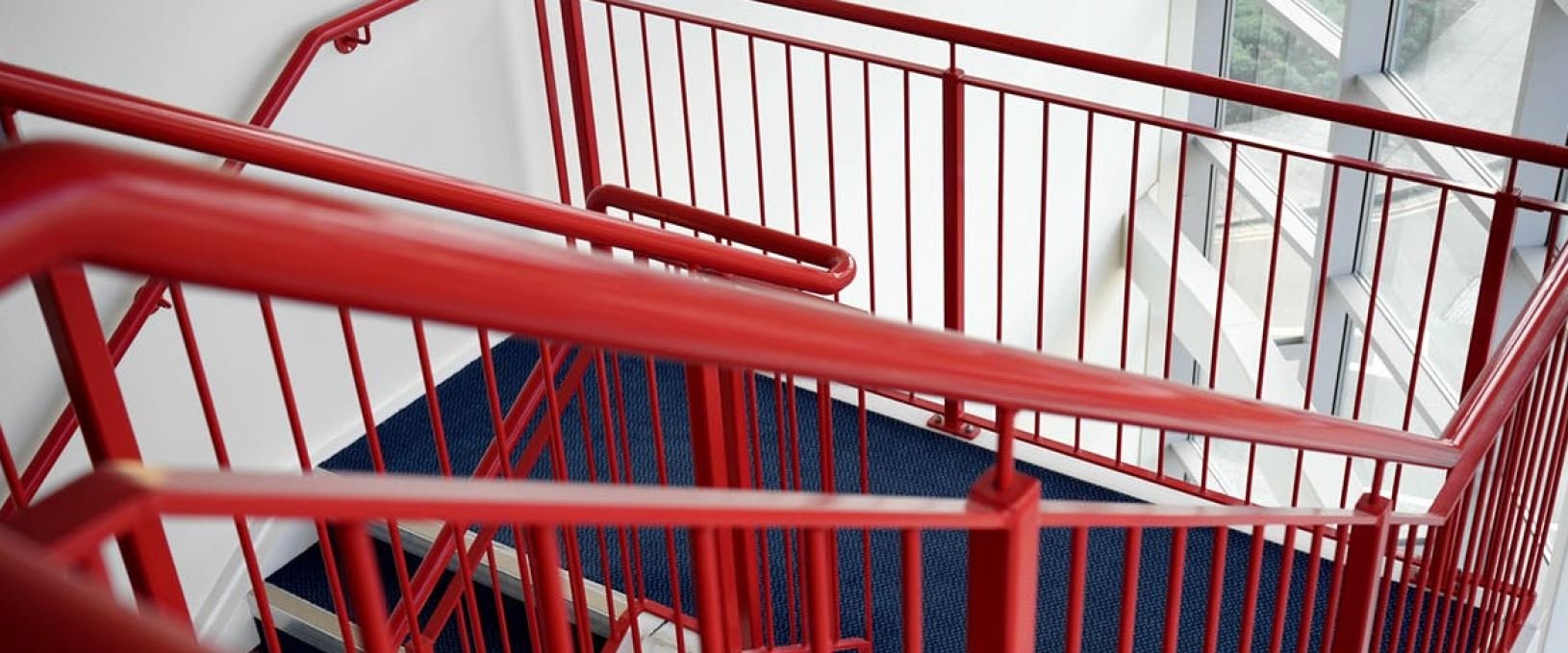 Regulations For Staircases
Staircases represent an obvious potential hazard because of the risk of falling from a height. Therefore, it is not surprising that the relevant regulations cover the technical aspects of staircase construction in some depth. The main provisions are the Building Regulations Part K, Part M, BS 6399-1 and BS 5950-1.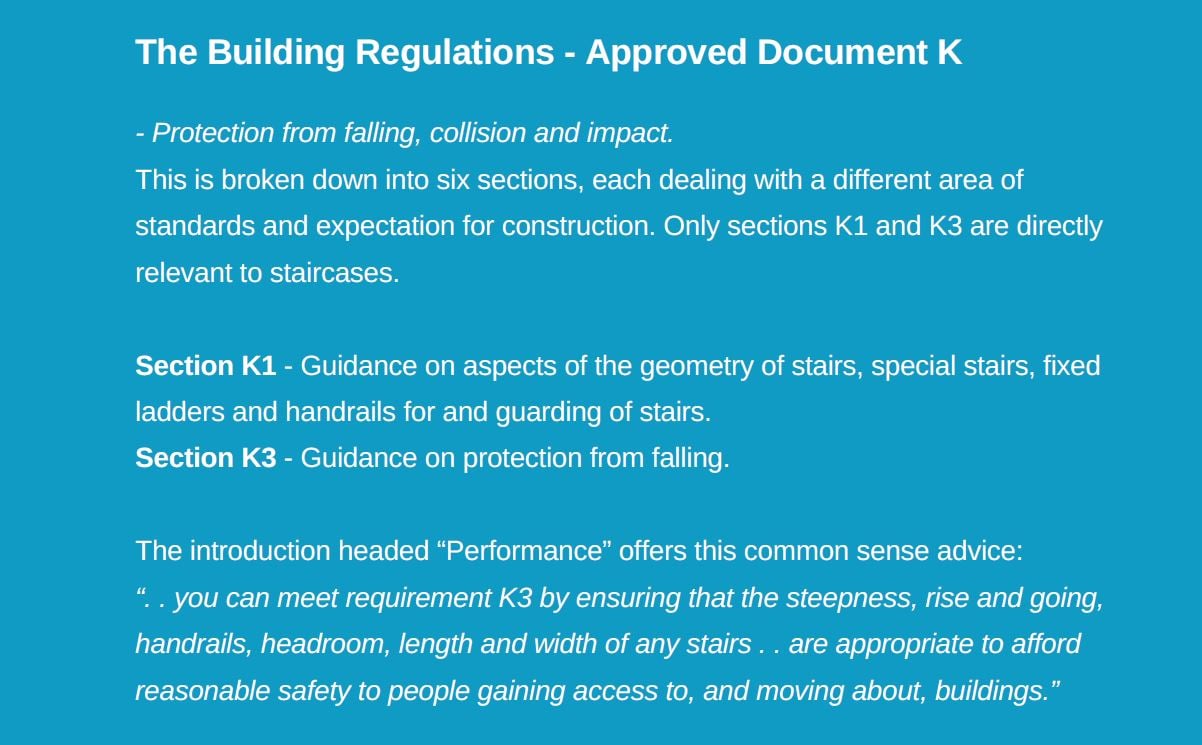 The Building Regulations - Approved Document M
– Access to and use of dwellings and public buildings.
The guidelines for entrances, lifts and stairs are covered separately for different
categories, such as wheelchair users and communal access areas.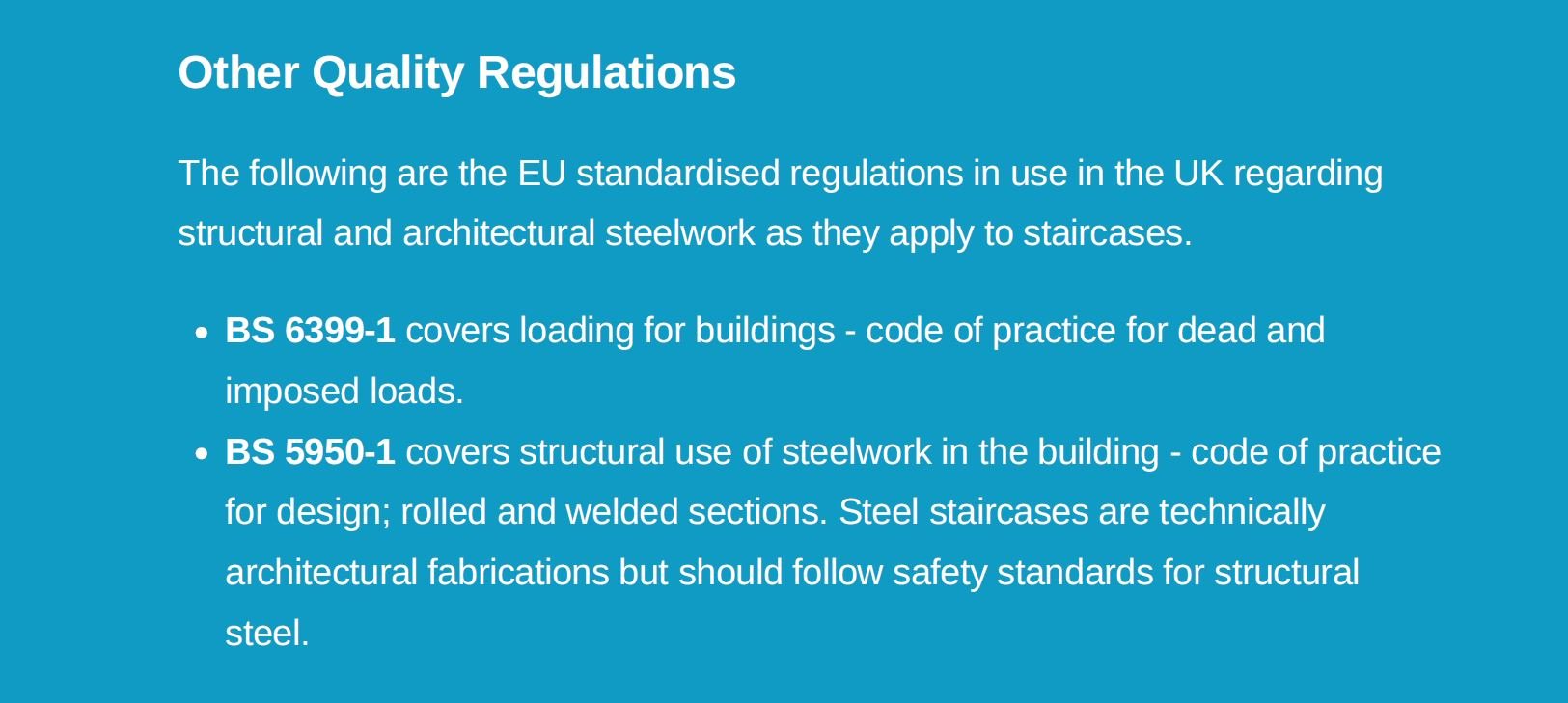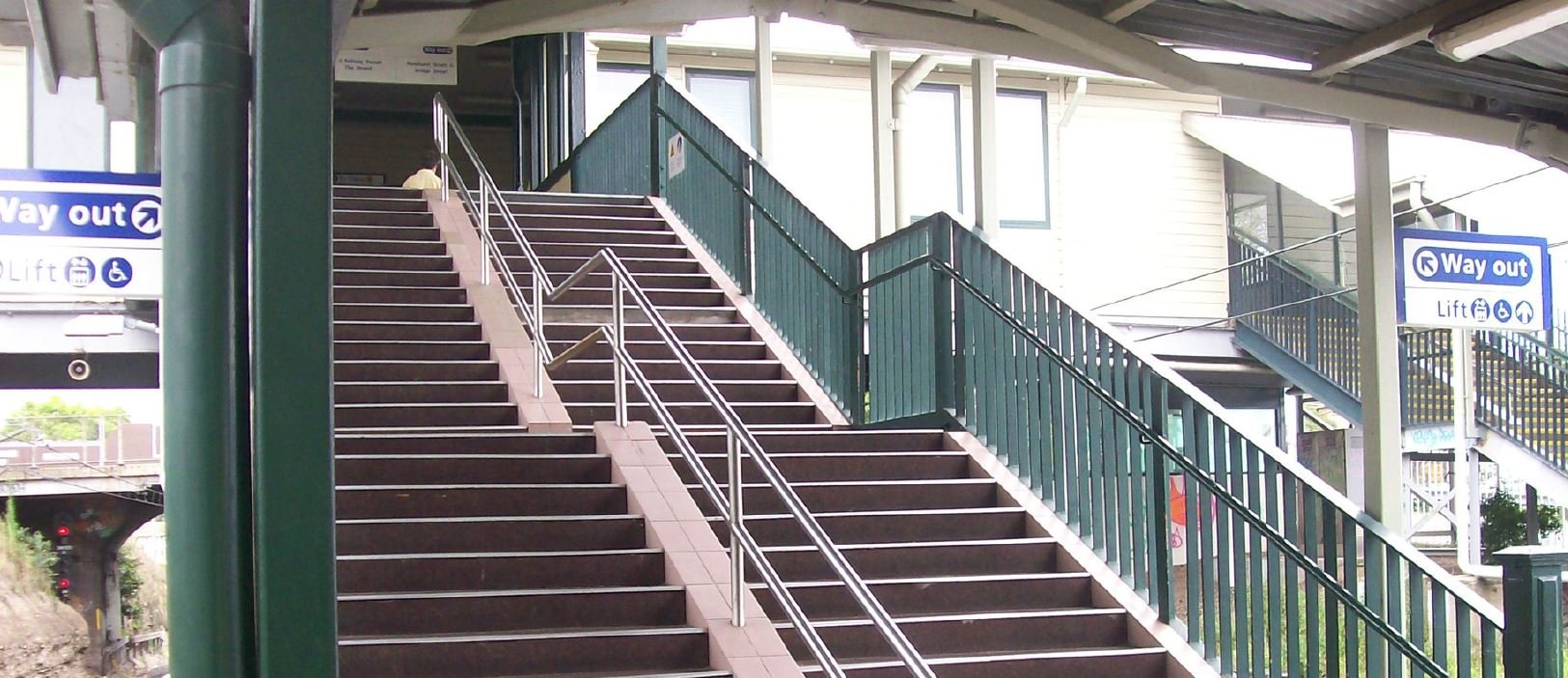 Why Choose GLW Engineering & Construction?
GLW Engineering have specialised in diverse, high quality steel fabrications since 1992.
We aim for reliable results that accurately reflect your technical specifications, delivering superb quality and putting a high emphasis on customer satisfaction.
With GLW Engineering you can expect:
Excellent fabrication quality
Compliance with UK and EU standards
Attractive pricing
Short lead times
Reliable delivery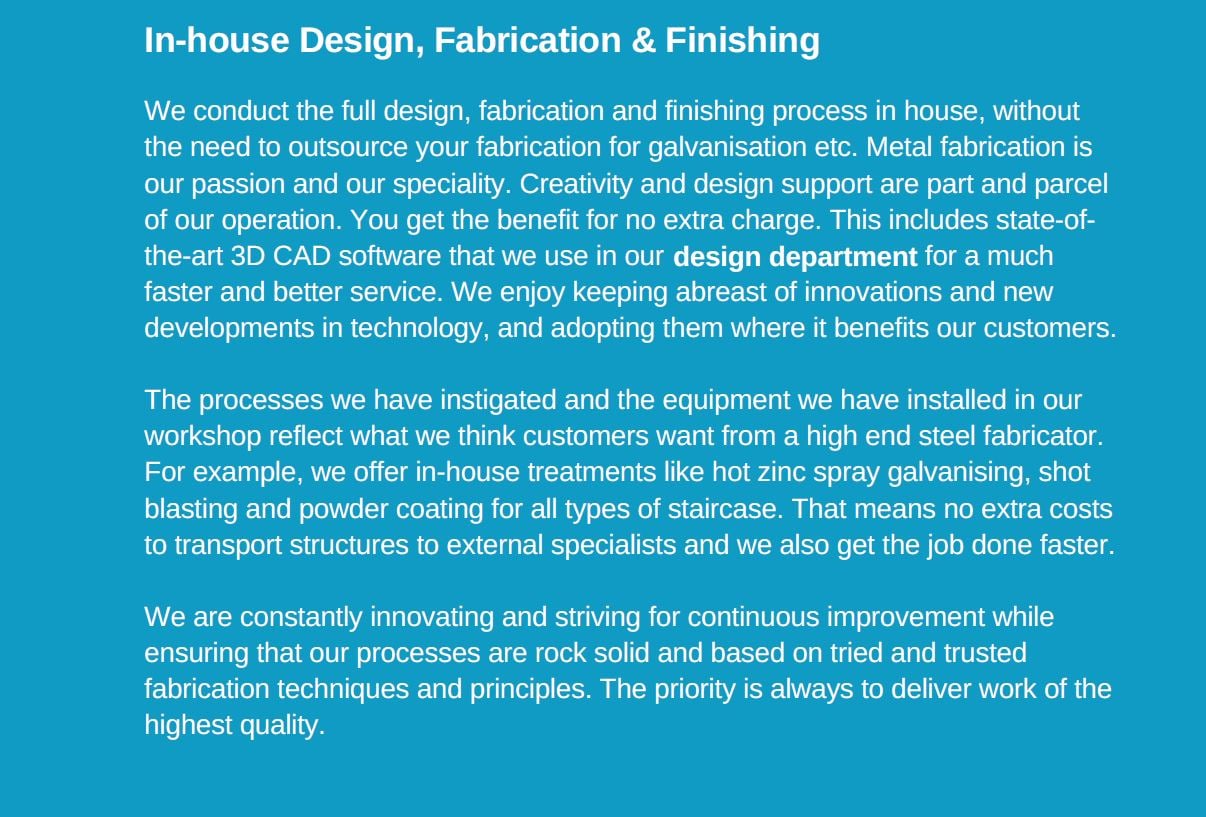 CE Standards
The harmonised standards for CE marking that we adhere to are the EU technical regulations for steel:
BS EN 1090-1 for fabricated structural steel
BS EN 15048-1 & BS EN 14399-1 for structural bolts
BS EN 10025-1 for steel plates
BS EN 10210-1 for hot finished hollow sections and BS EN 10219-1 for cold form welded hollow sections
The Construction Products Regulation requires a declaration of performance and CE marking for all structural and weight-bearing steel fabrications, such as staircases.

We go further and demonstrate compliance with CE approval for all our fabricated steel components including gates, grilles, barriers, railings and balustrades.