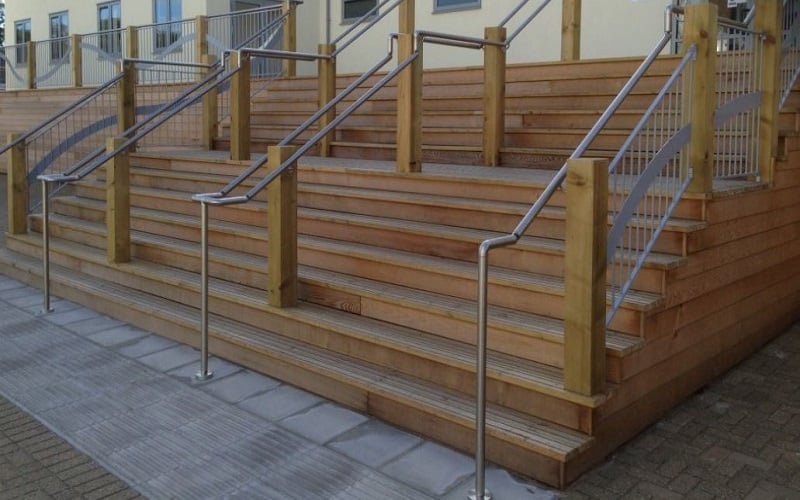 Your railings and handrails must do more than merely offer support and protection. They must survive rough weather, compliment your architecture, and keep looking good with minimal maintenance. Every metal satisfies these goals in unique ways, allowing project managers to find the precise properties they need from their railing systems.

Steel
Steel is one of the most popular materials for its extreme strength. It's tougher than aluminium, wears better, and isn't prone to dents. Three types of steel dominate the industry:
· Carbon steel: An affordable, durable option that lacks rust-resistance. It sometimes requires coating touch-ups and is vulnerable to signs of wear. Carbon steel is strong and has a unique black sheen that works well in some developments. Carbon steel can be coated to prevent rust. High carbon steel is harder than blue steel, but the latter is more rust resistant.
· 304-grade stainless steel: Rust resistant with a bright, reflective gloss. It requires polishing and is prone to rust in coastal regions, but is a popular option for some styles of railing. Stainless steel rarely cracks, but in areas that endure frequent storms, it is possible after heavy use.
· 316-grade stainless steel: A whiter hued steel with extreme rust resistance but a high tarnish rate. Stainless steel railings have a higher upfront cost than some metals but provide superior long term value for money due to their strength and immunity to corrosion. If your clients value a low-maintenance solution, the highest grade stainless steel will serve them well.

Brass
Copper-zinc alloys are easy to customise without loss of strength. They resist wear relatively well, with those that have a high nickel content achieving the best rust-resistance. Brass comes in a huge array of tones, from yellow and gold to chocolate, making it an attractive design feature for many types of building and public space. Its hygiene value makes it a popular option for frequently touched railings in high streets, parks, hospitals, schools, and care homes.

Aluminium
This soft metal is economical and easy to fabricate but can be prone to dents. It endures harsh weather but isn't considered as stylish as other materials. Its flexibility makes it less brittle than harder steels, particularly in cold environments. If coated, it resists rust.

Wood
If you're seeking a rustic look, wood railings can fit into a variety of palettes, but they must be carefully sealed to prevent deterioration. They stain when exposed to the sun and dry out in the heat. Rain and snow are just as destructive. When exposed to large amounts of moisture, boards can curl and break apart. At GLW we don't work exclusively with wood but we can accommodate wood/metal hybrid railings e.g. metal cable rails attached to wooden vertical posts.

Stone Or Granite
Stone and granite aren't as strong as they might seem. They're vulnerable to cracking and require professional installation, but their beauty makes them popular, if expensive, choices. Granite may discolour slightly when wet, and oils and acidic compounds can cause permanent marks. Impact chips are common, but stone is resistant to heat damage. Again, we don't work directly with stone but are happy to liaise with stone contractors to fabricate metalwork designed to attach to stone fixtures. Call us to discuss your requirements.

Find Out More
Railings and handrails must be impact-resistant and practical, but aesthetics are always going to be a core concern too. Every property owner has unique tastes, but most adore the timeless look of steel and other metals. Railings must, of course, also meet their users' budgets, but form should follow function. These are, after all, architectural elements built primarily for safety reasons.
At GLW we manufacture all metal railings to comply with BS and European standards for structural steel – offering superior safety, performance and appearance. Call 01945 464637 to find out more.