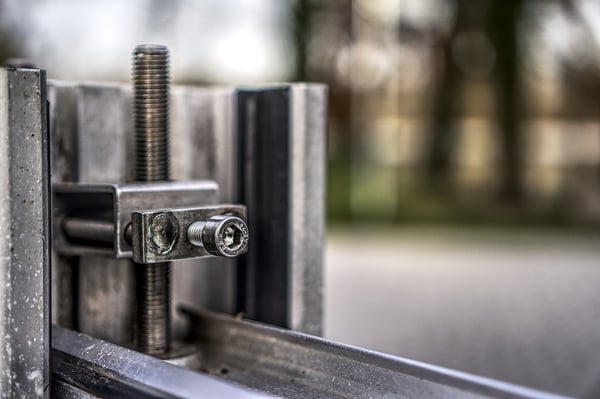 Whether you're a residential or business customer, security barriers and bollards are your first line of defence when protecting your property and possessions. Once the preserve of high-class car dealers to thwart thefts from their forecourts, crash barriers and bollards are now commonplace.
They prevent unauthorised entry onto a property, protect buildings and pedestrians from unruly drivers and discourage criminals from targeting premises after hours.
Security barriers and bollards should never be purchased 'off the shelf', however, for the simple reason that every location is unique with a different physical layout.
Installing equipment that is not bespoke could mean, for example, that barriers are an incorrect size, leaving gaping holes in a property's entrance that would allow the open access the equipment is meant to prevent!
Therefore, a detailed and methodical design process will enable barriers and bollards to be fabricated exactly to the customer's requirements.
3D CAD Modelling For Precise Design Accuracy
3D CAD software enables designers to create realistic three-dimensional computer models of all the components that will be needed with detailed specifications. This includes the fastenings, supports and fixings that will be required to ensure the equipment is secure and robust.

3D CAD modelling enables components to be 3D printed or simulated so you can see exactly how the security system will work. Bespoke design also means that every aspect of the customer's requirements can be accommodated from the type and location of the barrier or bollard to the exact sizing, method of operation and materials.
Understanding The Type Of Barrier You Require
The design process will be led by the type of barrier you need to secure your premises. A gate may suffice if you wish to prevent people or traffic from entering a designated area or control the entry and exit of vehicles (in a car park, for example).
Every customer's requirements are different which is why 3D CAD modelling is the perfect solution for designing and fabricating bespoke barriers or bollards.

From Design To Reality
Once the 3D CAD models have been viewed and approved to ensure they meet your needs, the design is advanced to fabrication using only the toughest materials such as carbon steel.
Surface coating is an essential part of the process as this provides excellent anti-corrosion for outdoor use while minimising the need for maintenance.
More Information
Security barriers or bollards must be able to withstand the elements for years without developing weaknesses, flaws or faults. At GLW Engineering, all our barriers are CE marked as a sign of high-quality fabrication.
If you're planning to ramp up your property's security to protect your assets and give you greater peace of mind, download our free Guide to Security Gates and Barriers or give us a call to discuss your requirements.


Image source: Pixabay