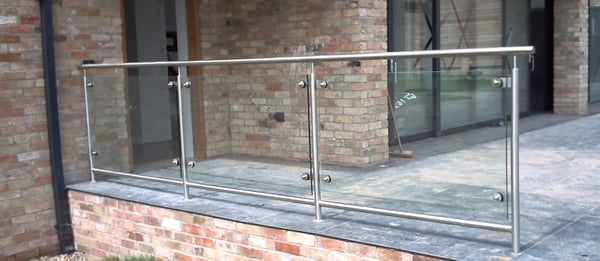 Handrails, metal fences and barriers play an important role for businesses, protecting customers and property, so strength and durability are vital. Welding the parts of these structures is one option but this increases the time and cost of fabrication as well as complicating on-site assembly.
Interclamp, however, offers a reliable and straightforward alternative solution.
What Is Interclamp?
Interclamp is an easy-fit modular clamp system that offers a simple, highly efficient and cost-effective solution to assembling metal structures by hand such as handrails, fences, guardrails, racks, sports nets and playground equipment.
Simple slip-on tube fittings that are locked quickly with a hex key eliminate the need for welding, rapidly accelerating the assembly of metal structures.

What Are The Advantages Of Interclamp?
When it comes to assembling rigid metal structures, Interclamp offers several advantages that make it a superior choice for pipe fixing and joining:
Superior galvanised finish: for excellent resistance to corrosion and an extended lifespan with minimal maintenance, Interclamp components are hot-dipped galvanised, meeting BS EN ISO 1461:2009.
Double surface coating: for additional protection and longevity, Interclamp components are secondary coated, making them even more resistant to corrosion and offering an aesthetically pleasing appearance.
Choice of fittings: an extensive range of modular fittings, which can create thousands of different combinations, makes specification of any metal structure straightforward.
Rapid, simple assembly: without the need for lengthy and expensive welding, Interclamp makes assembling handrails and other metal structures quick and easy. No welding means that expensive site equipment, special hot work permits, and specialist training aren't required.
Where Can I Find Interclamp Suppliers Near Me?
At GLW Engineering, we stock the full range of Interclamp components and, with reliable delivery across the UK, you only need to visit our online store to find all the parts you need for your assembly.
Bespoke Handrails And Railings
For maximum convenience with minimal disruption, we can fabricate bespoke metal railings for domestic, commercial and industrial projects.
These are engineered to your specifications and finished with a surface treatment that provides long-term resistance to corrosion and abrasion, while maintaining an aesthetically pleasing look that is free from flaws and discolouration.
To find out more, please call 01945 464637.