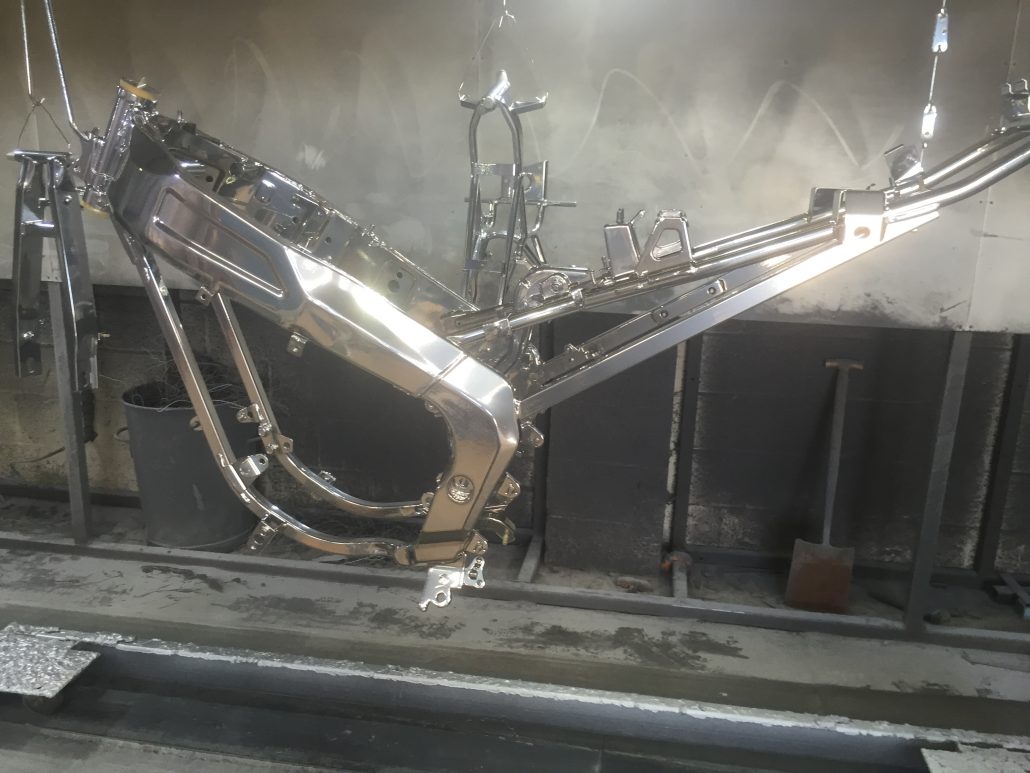 Restoring and rebuilding motorbikes is a labour of love that is best topped off with a powder coating finish for a glossy, hard wearing effect. Almost every part can be powder coated and the best starting point is when the bike has been broken down so that each part can be treated individually.
Careful masking of threads and raceways can be achieved by inserting silicon cones to shorten the preparation time. Powder coating is a cost effective option too given its long life expectancy as well as its robustness and the defence provided against corrosion.
Powder Coating Is A Durable, Hard Wearing & Long Lasting Finish
Powder coating creates a much thicker protective layer than paint. Thermoplastic powders can create a coating up to 200 microns thick. The cured coating provides exceptional resistance to heat, chipping, chemicals, and corrosion. It also delivers a consistent finish that doesn't run or drip.
Preparing Your Bike For Powder Coating
When delivering a motorcycle for powder coating, you need to first take all fittings, brackets and bearings off the frame and then remove as much dirt and grease as possible from the metal surfaces. Many frames are already powder coated, which can be difficult to remove. Protracted sand blasting could well damage the frame, so some time spent inside a controlled temperature pyrolysis oven removes any coatings or residual parts of components, such as rubber rings.
Surface Preparation Is The Key Step To Successfully Powder Coating Motorcycle Parts
As with any surface treatment, a thoroughly cleaned and prepared surface is a basic requirement for successful powder coating. It doesn't matter how professionally the other steps are carried out – if the prep is poor then the whole job is liable to fail, at least in parts.
Strip back to bare metal – sand blasting removes rust and old paint so you start with a clean base. In some cases where a part was previously powder coated, a chemical solvent may be required to remove old residues.
Clean off grease and oil with a degreasing agent
Optional zinc galvanising (or hot spray) – for wheels and underside parts, this adds increased corrosion protection
Epoxy primer layer – this aids adhesion of the powder coat
How To Powder Coat Motorcycle Wheels
Motorcycle wheel powder coating preparation techniques vary according to the age and metal of the wheel rims. Older steel rims can accept sand blasting, which is best avoided on modern aluminium wheels. Chemical solvents can be used to reduce the wear and tear that might otherwise be caused by blasting. Special attention must be paid to the beading and excessive wear avoided, as this might cause tyre deflation problems later.
Find Out More
Talk to us at GLW Engineering about what powder coating you need for your bike restoration project to give it that final lustre. Our workshop in March, Cambridgeshire is convenient for customers in Lincolnshire, Norfolk, and Suffolk as well as Cambridgeshire. Call us on 01945 464 637 for more information about timescales, options and pricing.