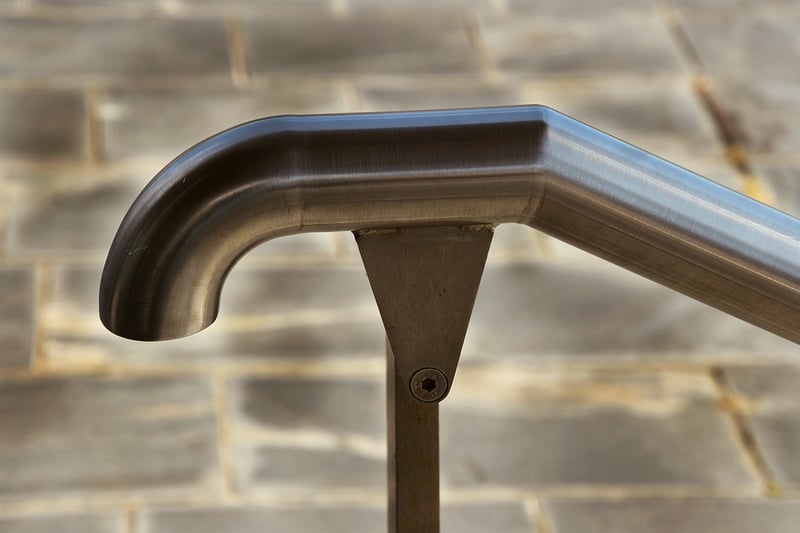 No matter how modern the 'cost is no object' interior of your client's new office complex, the pièce de résistance is often the contemporary sweeping stairway with its glass balustrades and stainless steel handrails leading up to a mezzanine floor and surrounding balcony. In other areas of the business, such as warehouse or factory floor, functionality, practicality and cost take preference over aesthetics and image. Whether your requirements are creative and eye-catching, or efficient and business-like, the fabrication process is broadly similar.

Materials
Materials can be flat bar, solid steel, tubing or box section. Mild steel, carbon steel, stainless steel, aluminium, galvanised steel, brass, or a combination of, are all regularly used for constructing handrails and balustrade. Glass is also becoming increasingly popular in railings and stairway handrail construction.

Measuring Materials
When fabricating handrailings in domestic and commercial developments, local building regulations have to be adhered to. In the UK, this means handrails need to be 900mm to 1000mm above a walkway or stairway. How the main anchor posts are going to be fitted also must be taken into account. If they are to be sunk in brickwork or concrete, added post length needs to be factored in. When measuring the length of cap-rails, an allowance has to be made for any end ornamental scrolling to be included. All of these measurements should already be included on the working drawings. All that has to be done is each set of measurements transferred to each individual piece.

Cutting & Straightening
Long lengths of steel can be prone to twisting and warping, shorter lengths not so much. Most steel suppliers are happy to cut your steel to size, and it's a good idea to go down this road. First, it saves you doing it. Second, shorter lengths of material are less likely to need heat-straightening or have twists removed. If you're a little concerned about your measurements, add an inch. Once your pre-cut material has arrived, it can be easily trimmed using hacksaw, file or electric bench saw.

Punching, Stamping & Notching
Depending on the material being used, you may need to use a mechanical punching or stamping machine. Mild steel sheet will need square holes punched along the top and bottom crosspieces. These are to accommodate the solid or box section square, mild steel spindles, ready for welding. Rectangular holes will need to be cut to allow for the angle of lift if it's being constructed for a stairway. If round bar is being used for spindles, the required holes can be drilled with a hand or bench drill. Using a hydraulic punch and die, the bottom crosspiece and cap-rail can also be formed to required shape. Although nowadays, many steel suppliers can provide preformed cap handrailings.

Sheet & Pipe Bending
With the infinite number of patterns and shapes requested by clients, metal bending is a natural part of the job. From basic vice held 90 degree bends and curves, to complex twists and scroll work, requiring mechanical cold and hot bending of sheet, box section, bar and tube. All are an everyday part of the job.

Sticking It All Together
Once measurements have been double checked and individual pieces formed and cut, the outer frame can be laid out on the floor or large work bench and jigged up for welding. With the main frame welded and checked for any heat twisting; spindles and ornamental scrolls can be added and welded together, to form the completed section.

Weather Protection
Although mild steel is the favourite, most cost-effective material for fabricating handrailings; in its bare state, it has little aesthetic appeal and is highly prone to corrosion. The most basic of safety guards and handrailings can be turned into a functional and attractive piece of artwork with the use of paint powder coating or galvanising. While galvanised pieces tend to be silver through to light grey, powder coating is available in a range of colours, to compliment and contrast with the surrounding paintwork.

Find Out More
At GLW Engineering we handle the full fabrication process for a wide range of metal handrailings and other architectural components – all to your technical specifications. To discuss your project requirements please call 01945 464637.