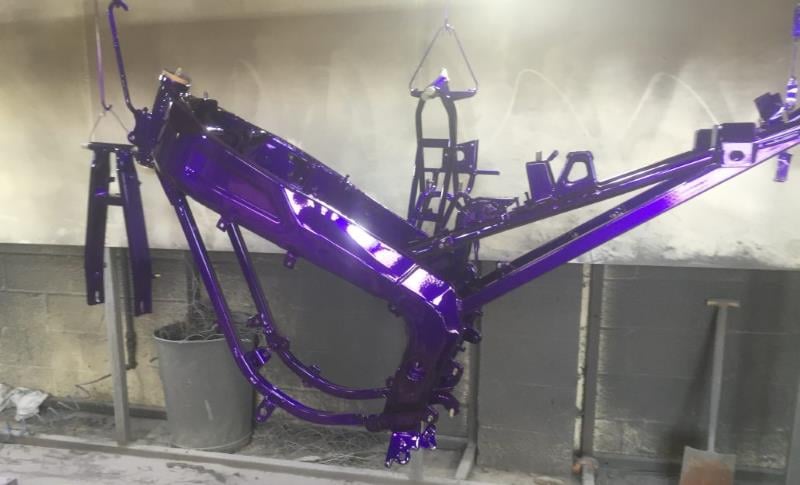 Objects that can be powder coated are restricted only by size, really. They are almost always metal but some processes can handle non-metal objects, like plastics. The powder coating process requires them to be suspended in a spray booth to spray on the coating and then baked to cure it. Baking can be carried out in an electric oven / gas oven for relatively small objects. Alternatively, infra-red lamps in sufficient numbers and placement can do the job for larger objects.
Rims
Car wheels are an extremely popular powder coating theme. It's easy to see why. Personalised wheel rims stand out as an eye catching personal statement. The range of powder colours available is so wide that there is almost certain to be one that matches what the owner wants. The chosen colour can tone in with the car body or stand out as totally distinctive. It's also a simple and great way of breathing new life into an older car body, often at the same time as a respray job on the car itself.
Furniture
The attraction of powder coating everyday objects like furniture is that you can create unique personalised items, or a range of matching items to create a themed look. The only restriction really is again one of size but the majority of metal household or garden furniture items are small enough to be accommodated in most powder coating shops. DIY home powder enthusiasts can achieve excellent results on smaller pieces.
Architectural Steel
Things like railings, doors, windows, steel staircases are considered to be architectural, while structural steel refers to things like steel frameworks in the structure of a building. Powder coating has two standout benefits – it can match or tone with a corporate colour scheme and it looks great for many years, usually weathering better than a paint finish. Steel fabricators like GLW Engineering offer in-house facilities for a powder coating finish option. You can see more images and some of our powder coated objects here.
Bicycle Frames
Stripped down bicycle frames are another very popular powder coating theme. Not alone for personalising your bicycle but also to make it instantly recognisable. That can act as a deterrent against theft or as an aid to identifying it if it has been stolen.
Boxes And Cabinets
Because of their small size and utility value, these are a great subject for powder coating. Even old, rusting objects can be stripped back to bare metal by hand or by some other technique such as sand blasting or shot blasting. As with all finishes, it is vitally important that the object be completely free for rust, dust, grease and so on.
The Powder Coating Process
Once the target object has been thoroughly cleaned, it is ready for being sprayed with the powder coating, which is a mix of epoxy resin (usually) and pigment. It must then be earthed because the powder spray gun generates a mild static charge that causes the powder to stick to the object rather than simply falling off. The next step is to bake it for about 15 minutes at 200°C so that the epoxy resin melts and coats the object evenly.
Our Services
Our fabrication shop is located in March, Cambridgeshire, and we would be delighted to quote you for any powder coating job you may have in mind. You may also book it in for sand blasting, shot blasting or soda blasting in our state-of-the-art in-house facilities that also include hot zinc galvanising. Contact us today to discuss your project and obtain a free quote.