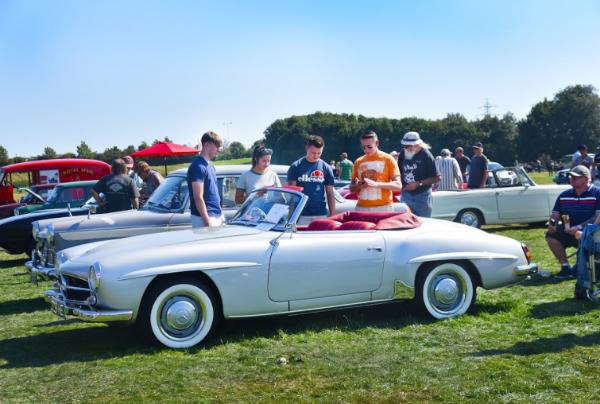 Image source: www.peterborough.gov.uk
This summer we were delighted to support two popular local events as exhibitors. The Ramsey Steam & Fire Show took place in the sweltering early weeks of July, with funds raised for the Firefighter's Charity. This coming weekend we'll be attending a second event – the Peterborough Classic & Vintage Vehicle Festival. The forecast looks promising and this is always a fun event, so we look forward to seeing some of you there!

The Annual 'Ramsey Steam & Fire Show' In Aid Of The Firefighters Charity
This fantastic event in early July eventually raised a magnificent £1500.85 for the charity and was a thoroughly enjoyable day. The many working vintage and model steam engines brought great pleasure to the attendants and evidently great joy to their owners. We were there to spread the word to owners of vintage vehicles of all types that our facilities in March are available to help them with restoration of body parts, chassis, etc. Shot blasting and sand blasting are perfect for stripping rust and dirt from old vehicle bodies. We can texture the underling metal also if required and ensure it is in tip top condition ready for further work or painting. We can also offer powder coating and galvanising services which can add new life to any metal object.
Peterborough's Fifth 'Classic & Vintage Vehicle Festival' - 1st & 2nd September
We are absolutely delighted to have attended Peterborough's upcoming fifth Classic & Vintage Vehicle Festival (1st & 2nd September). As well as enjoying the huge range of vehicles on display, we wanted to let people know that our services can make a real difference to caring for and restoring older vehicles. Rust and decay can be abraded away by several non-destructive methods including shot blasting and sand blasting. These techniques can also texture the underlying metal to provide a pleasing surface for painting over.
We also offered powder coating in a wide range of colours to bring old parts back to gleaming life. Anything that helps renew one of these beautiful classic vehicles is a welcome development in our eyes! Services are offered from our March facilities.
Services For Private Vehicle Owners
Although most of our work involves steel fabrication for commercial building and civil engineering projects, a growing number of our customers are private owners of classic and non-standard vehicles. We can assist in restoration and customisation projects, creating new unique components and renewing the bodywork on any type of vehicle. To discuss your needs please give us a call or send a message through our enquiry form.