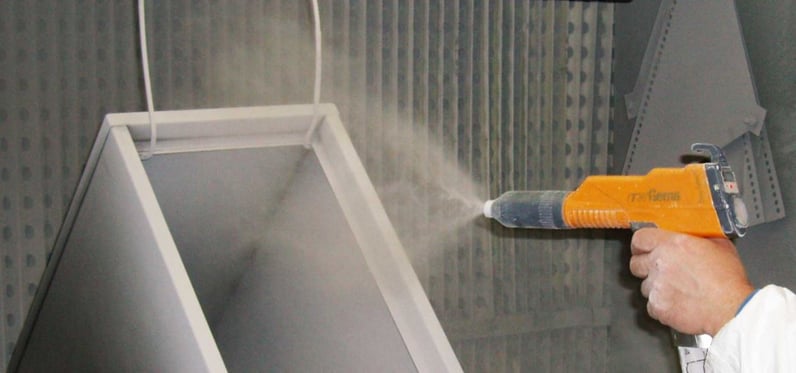 When it comes to choosing powder coating for fabricated steel parts, it can be a confusing and time consuming process. What started off in the 1960s as a new trend in civil engineering, quickly stuck in the market and has been popular ever since. Power coating in Norwich makes up for over 15% of the total industrial finishing market, which is a clear indication of its popularity and demand in the market.


Advantages Of Powder Coating
The high quality finish is used to protect even the roughest and toughest of steel component, whether destined for architectural or structural use. But that's not the only place powder coatings are now used. Even daily household item manufacturers now frequently use powder coatings to make the material more durable and resilient.
There are still many businesses who prefer liquid coating over powder coating, even though the latter has proven to provide a more durable finish. But what good does a powder coating do for steelwork?
A powder coating makes the fabrication more resistant to diminished coating quality due to weathering and corrosion. Where most materials succumb eventually to the effects of moisture, ultraviolet light, chemicals and extreme weather conditions, materials treated with powder coating resist for a far greater period of time.
Not only are powder coatings tough and long lasting, they also looks great, improving the appearance of aesthetic steel parts, such as balustrades and railings. And the best thing is that powder coatings come in different types so you can choose the best match for the material.
Types Of Powder Coating In Norwich
There are two types of power coatings and only a licensed expert like GLW Engineering are authorised to apply the coating.
Thermoplastic Powder Coating
This coating uses a powder that melts and flows to cover the material when exposed to heat. And once the component cools down the coating quickly solidifies. The powder fusion bonds with the surface and flows out in a continuous film. The physical properties (corrosion resistance etc.) develop once the material has cooled down.
Quite like the Thermoplastic powder coating, a thermoset powder also melts when exposed to heat and quickly reacts with the chemicals. This too flows to cover the material but unlike thermoplastic powder coating, it does not go back to its liquid phase when re-heated.
There are sub categories in thermosetting powder coating, which are the result of recent technological developments in the area. This type of powder coating uses four generic types of resins which are as follows;
1. ACRYLIC: Used mainly in the automotive industry.
2. FLUOROPOLYMER: Used in the architectural market, including for steel fabrications.
3. EPOXY: Used for coating industrial equipment, architectural steel fabrications metal furniture and appliances.
4. POLYESTER: The most popular general purpose powder coating and has a broad application field, although it is not so commonly used for commercial fabrication.
Powder Coating Services From GLW Engineering
GLW Engineering offers a high quality powder coating service for businesses in Norwich and the surrounding areas. We are happy to work with aluminium, mild steel, stainless steel and galvanised steel, applying protective coatings to fabrications of all types. Our team of fabrication engineers are experienced in their field and have also been trained to meet the highest standards, with a full array a of relevant qualifications. We work to offer you the quality and reliability you expect from industrial grade powder coatings. For more details, please contact us by phone on 01945 464 637.
Download Our FREE EBook
More information about powder coatings, alongside other topics, can be found in our free Guide To Shot Blasting & Powder Coating . Click here to access your copy.