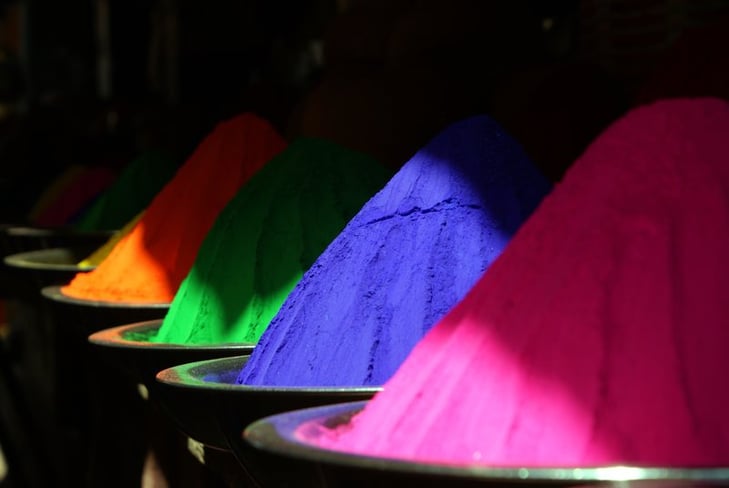 Powder coating is an innovative, environmentally friendly steel treatment that doesn't contain solvents and offers a thick coating with high durability. It's applied as a dry powder that's cured and hardened, becoming as colourful as paint but with higher durability. It's non-toxic and doesn't need to pass pollution control and other regulations. It has unique properties and can withstand high temperatures, protects the surface against rust, and is weather-resistant. It also complies with the requirements of the Building Research Establishment Environmental Assessment Method; known as BREEAM.
Powder coating is suitable for a wide range of architectural steel fabrications:
The most popular colours include:
Black
Gold
Different shades of white
Silver
Different shades of grey
Aside from colours, there are two main properties of powder coatings that define their finishing look.
1) Gloss
There are several levels of gloss and they all are compatible with other materials and chemistry.
Matte
This level is also known as "flat" because the surface has almost no shine.
Satin
This level can't offer a clear reflection but has a bit of shine to it.
Medium Gloss
The surface treated with this level will be more reflective than others will but still not completely shiny.
Full Gloss
This level offers the shiniest and the most reflective surface you can find.
All levels differ from one to another and you can see it in the crispness of their reflection.
2) Textures
With the right texture, you can add a depth and tangibility to any steel surface. Any texture is compatible with any colour and the options are almost endless. There are 3 primary texture groups that are as follows:
Sand Texture
This texture looks like sandpaper and it can be paired with the first two gloss levels.
Hammer Texture
It looks like a golf ball and can be used with higher levels of gloss. The hammer texture destroys the reflective ability of glossy finishes.
Wrinkle
This texture looks a lot like the first one but is a bit rougher. It's not compatible with glosses.
Maintenance
All textures and gloss finishes are very easy to clean and you can use anti-microbial additives to fight infection and bacteria. In some industries, lower glosses are more popular than higher glosses. For example, some clients prefer to see matte finishes because they collect less scuffs and scratches.
From a manufacturing point, gloss finishes have more requirements as they can show scratches and grind marks when applied incorrectly. Textures are easier to apply and they can cover the damages of everyday use.
Serving Businesses Across East Anglia
At GLW Engineering, we offer custom powder coatings in different colours, gloss levels, and textures. With a powder coating, your steel product can be an attractive feature for any purpose, as we have almost endless possibilities to personalise and customise its surface. If you have any questions about choosing a quality steel fabrication company that can offer powder coatings in East Anglia for your next project, you can download our free eBook.