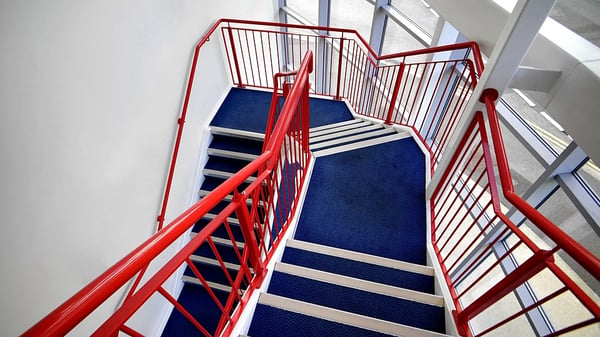 Handrails are primarily a critical safety feature, a way for people to move safely up and down flights of stairs or steps, particularly in cold or wet weather when the surface under their feet may be slippery.
Handrail manufacturing is governed by health and safety legislation with regulations defining aspects such as their position and height. For safety, therefore, qualities such as durability and strength are key.
However, handrails can be so much more than a functional and regulatory requirement. Designs that are elegant, contemporary or antique can perfectly compliment interior décor, providing an eye-catching focal point for any business or home.
If you're seeking to balance functionality with style, you need to choose the right surface treatment too.

Types Of Surface Treatment
Different surface treatments can be used to give handrails a finish that is durable and aesthetically pleasing:
Powder coating: powder coatings provide a smooth, flawless surface that resists impact damage and abrasion. Powders are more cost-effective than liquids and offer a fast turnaround time.
Galvanisation/zinc coating: galvanised coatings offer longevity and excellent resistance to wear, making them ideal for outdoor locations. With every part of the steelwork coated, the entire handrail is protected against corrosion with no paintwork or maintenance required. A galvanised coating can be applied through either the traditional hot-dip galvanisation process or through a hot-zinc spray application.
Polish (stainless steel): stainless steel doesn't normally require a surface treatment but may benefit from polishing to accentuate the shine and smoothness of the metal. Equally suited for interiors where the handrail can be a captivating focal point or outdoors due to its resistance to corrosion, stainless steel is also low maintenance and easily cleaned.
The Benefits Of Surface Treatment Of Handrails
Durability is important when a handrail must withstand constant usage without affecting its appearance. Surface treatment can have significant benefits that will protect its strength and appearance for years to come:

Anti-Corrosion
A handrail that is corroding poses a safety risk to users. Regular exposure to rain, wind and cold can cause the substrate to degrade over time; even indoor handrails are not immune, as the minerals contained in sweat on palms can have an adverse effect on metals. An oxide coating will reduce the corrosion of the handrail, reducing degradation and minimising maintenance costs.

Increased Lifespan
Handrails that are protected by a metallic finish have greater longevity compared to alternative finishes. Due to its functional role, a handrail will be exposed to considerable use over time and, without surface treatment, will erode quickly. Surface treatment offers durability and resistance to wear, scuffs and scratches.

Easy Maintenance
Areas of high contact require regular cleaning to prevent the spread of harmful pathogens. A metallic surface coating is easy to wipe over due to its smoothness and is resistant to potentially damaging detergents and cleaning solutions.

Superior Appearance
Surface finishes are both visually impressive and durable, meaning little maintenance is needed to sustain the handrail's eye-catching appearance. By comparison, regularly applying paint to a handrail is time-consuming and costly.
Different techniques such as anodising, powder coating and plating can provide an aesthetically pleasing finish free from flaws, creating a handrail that is stunning to look at, as well as safe and reliable.
Download Our Free Guide
At GLW Engineering, we can fabricate bespoke handrails for any setting with the highest standard of engineering and finishing.
Download our free e-book The Guide to Railings and Handrails, to find out more or phone for a free quote.
 

Image source: Pixabay