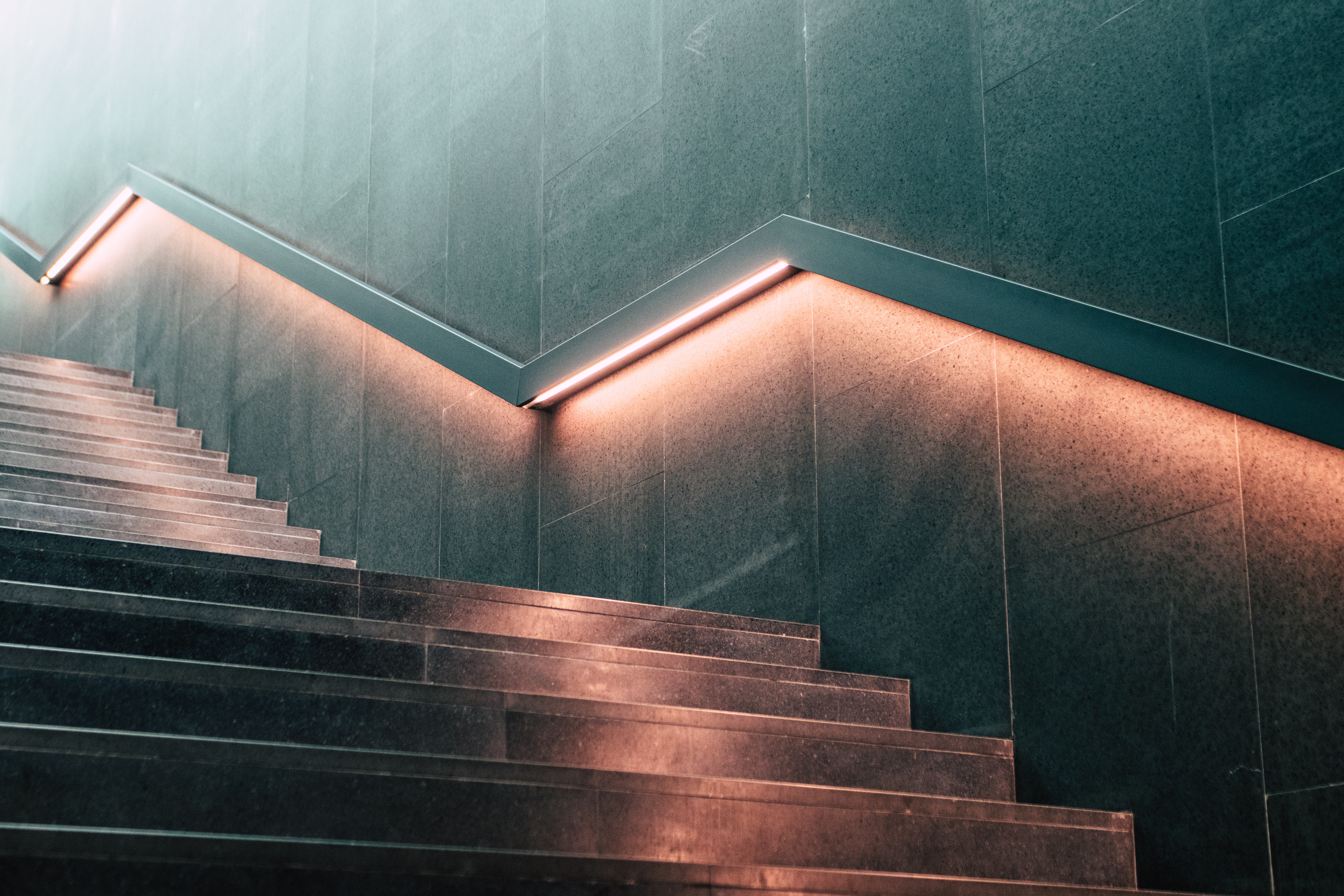 When it comes to stairs, there are many kinds to choose from. But which one is right for your building? Different staircases contain different construction materials, form factors, and select quirks that subtly alter the ideal use of each. Whether your staircase is going to be public, private, indoors, or outdoors can also make a huge difference as to the best choice for your particular situation.
Here's our quick reference guide to the advantages and disadvantages of the most common types of staircase.
1) Straight Staircases
The most common type of staircase. These structures are commonly found indoors and outdoors in residences, shops, and offices worldwide. Common straight staircase construction materials include stone, varnished wood, and steel.
Straight staircases consist of a series of two to sixteen risers that take users on two floors from Point A to Point B in a straight diagonal line upwards. They're usually equipped with a handrail and simple exterior guards, if open to a drop. Landings and half-landings may also be present on longer staircases.
A staircase with a straight ascent can prove useful if you're not looking for anything too fancy or expensive. They're relatively easy to design, build, clean, and fit for safety features such as handrails. They can also offer a minimalist look, suited to open-plan residences and retail spaces.
The one major downside is that they tend to have a much greater physical footprint than other kinds of staircase. Turning L-Shape and U-Shape variants with half-landings can be used to help reduce the footprint of the staircase by linking smaller straight ascents together to form a circuit around an obstacle.

2) Architectural
The complete opposite of a straight climb. Architectural staircases are designed to be feature pieces, best suited to retail environments and public spaces such as museums and theatres. Architectural staircases often involve unnecessary but aesthetically pleasing curves and angles which turn the ascent into modern art. Heavy stone, polymer casings, and structural steelwork are used to support the strange spines, flourishes, and juts of these staircases.
Architectural staircases are great for drawing attention to a building or space and can breathe new life into a large residence. The glass edges used as barriers in many designs are attractive to visitors and customers.
The drawbacks are that they can take up even more space than a straight flight up, depending on the design. Architectural concepts may not be suitable for everyday use or disabled people. An overambitious plan that values style over safety may find itself on the wrong side of the law unless closed down and reclassified as a sculpture.

3) External
As the name implies, an external staircase is any type of staircase located outdoors and exposed to the elements, such as against a building. External staircases are usually made of hardwood or treated steel. They are frequently used in and around buildings as quick access routes, landscape traversals, alternate entrances, and fire escapes. They can be connected to balconies, terraces, and platforms to form a network of above-ground routes.

Externals offer most of the same advantages and drawbacks as a straight staircase. However, material that rusts, corrodes, or rots easily should not be used to construct an exterior staircase. Handrails and guards are also vital on outdoor routes due to wet and cold weather. Varnishes, paint, and other preserving treatments can increase the lifespan of your exterior staircase.

4) Indoor Commercial
Indoor commercial staircases are similar to straight staircases, albeit scaled up and compacted. They're commonly found as public routes in department stores, shopping centres, and commercial entertainment buildings such as cinemas. They're often used as interior fire escapes and lift alternatives, as well.
By employing a larger initial ground footprint, indoor commercial structures can loop back on themselves to form a vertical route of ascent or direct pathway between floors or departments. They may also incorporate a much wider range of mobility aids and safety features, such as luminescent riser edging or utility grips, allowing them to handle vast amounts of foot traffic safely. The one serious downside is that they're just not practical to install in small-scale buildings.

5) Spiral & Helical
A stylish solution to save space in any building. Spiral and helical staircases loop around a central axis, rising in a circular direction. This allows them to ascend vertically between floors while maintaining a minute footprint. The helical variant connects two awkwardly positioned points via a curve and may have a less intense rise.

They're usually made of a metal such as stainless steel. As with architectural staircases, the unique design and railing structure often turns spiral designs into a talking point. However, it's worth remembering that only one able-bodied person at a time can use them. Mobility is limited due to the narrow circumference and curl of the staircase. Spiral staircases may not be suitable for high-traffic areas, public access points, or routes that heavy items are carried along.

Which Staircase?
If you still can't decide which staircase is best suited to your project, or if you're looking to outsource your fabrication requirements, contact us at GLW Engineering. We'll talk you through what's right for your property, handling everything from CAD to metalwork to implementation.
Image Source: unsplash.com