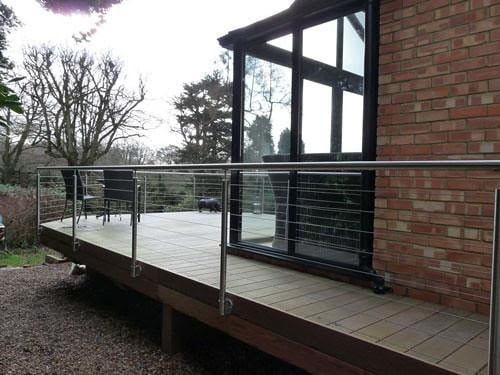 Cable railings are a surprisingly versatile assembly of twisted and tensioned wire ropes strung between vertical wood or metal posts. Topped with a guard rail to provide safety and support, cable railings can be used in any location where you might use a conventional glass and steel balustrade system. So given this welcome, all-purpose adaptability, what particular benefits do they offer which can often make them the go-to railing system option?

What Do Cable Railings Offer?
Generally fashioned from stainless steel, cable railings are a practical contemporary option that can be adapted to suit most domestic, commercial and industrial environments. A stainless-steel cable barrier assembly is a strong, durable choice that is tasteful from an aesthetic standpoint and yet very easy to keep clean.
Not only are cable railing systems an easy clean option, they also offer excellent corrosion resistance. As well as looking good in situ, this means they can be relied upon to stay in good condition for much longer in challenging environments. So if you live in a coastal area, or want to organise your spaces in a chlorine-heavy environment close to a swimming pool, for example, cable railings are an ideal solution. And likewise, in factory workshops or industrial units, a cable railing system is a suitably robust choice which can, for example, provide a secure barrier with the tensile strength to offer dependable functionality in harsher workspaces.
Any work and leisure areas which need to have defined sectors but not barriers would also be a prime location for stainless steel cables. They allow unobstructed vision and thus can be used where you wish to promote a collaborative working environment, to create an organised, open-plan workspace, or simply to preserve a spectacular view in a prime location.
Adaptability
Cable railings are also ultra-adaptable. They can be installed for aesthetic reasons, for example, to complement a clean, minimalist office design, or to provide a secure yet stylish barrier offering reliable structural integrity in areas such as steps, stairwells, balconies and busy walkways where safety is paramount. Yet even though cable railing systems can be very flexible, it will still pay to make the most of your investment by choosing the right design and materials, which will then complement and enhance your location and support the intended functionality.
Cost and Upkeep
In terms of initial purchase and installation, the cost of a cable railing system compares favourably with alternatives such as glass and stainless-steel barriers. So those constrained by limited budgets will still be able to choose a stylish and customisable option. And once your system is installed, the cleaning and maintenance demands are very modest. What is more, no high-level technical knowledge or skills are required, so your workforce can undertake such tasks in house without calling out an expensive third-party service team.
Next Steps
To discuss cable railing systems with one of our experts, and decide the best solution for your project, please call 01945 464 637, or email info@glwengineering.co.uk.