PASMA Tower Trained
We have been extremely busy over the past few months! Amongst many other things, we are pleased to report that we are now PASMA tower trained!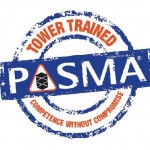 Secure Safety Bunker
We have also been working with a well known Valve company to create a Secure safety bunker for testing Petro Chemical Valves handling pressures of up to and past 15000 Psi!
The bunker was designed by our Director Geoff White, and was constructed using powder coated steel and wood. The bunker was that large that special transport was required together with onsite cranes. The project is a culmination of many months working closely with the customer on their advanced and specific requirements.
11 Galvanised Steel Staircases for the National Grid

We also installed 11 galvanised steel staircases for the National Grid in Leeds. The work was completed in strict safety conditions due to the close proximity of live cables and electrical equipment.